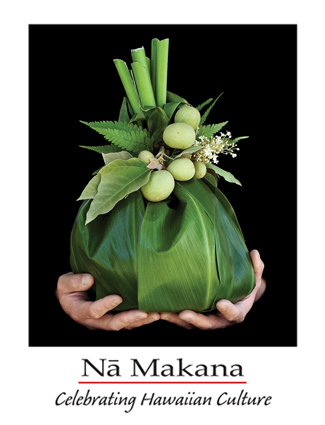 Free with Film

KĀLEKA KĀKO'O - A Guidance Card
written by
Mākela M. Bruno-Kidani
Instructor, Hawaiian Language and Culture, University of Hawaii at Hilo, Past Director, Pūnana Leo o Waimea
The Guidance card provides several key words that share an aspect of the Hawaiian culture, with definitions in their simplest form. Questions provide an opportunity for exploring the role of these teachings in your life. You can take in each word as you view the images and hear the chants, and see what story unfolds for you.

Nā Makana - The Gifts film
includes Free Guidance card
Time: 40 minutes     Worldwide Distribution
  HOME VERSION
  DVD $25 US

  INSTITUTIONAL
  VERSION DVD $50 US

Schools, Libraries, Museums and other Institutions must select Institutional format of this DVD per publisher of film: Institutional use grants rights to libraries, schools, museums, companies and organizations for classroom viewing or viewing within a single-institution. Videos are licensed for free presentation by the acquiring institution only.

  DOWNLOAD MP4   VERSION $15 US
Online ordering is available through PayPal secure payment service with credit cards, electronic checks or your PayPal account.


Proceeds from the project will cover production costs and provide support for Hawaiian language immersion programs.